Have you had your Happy Hormones today?
A unique blend of Herbal Medicines to help maintain a healthy hormone balance.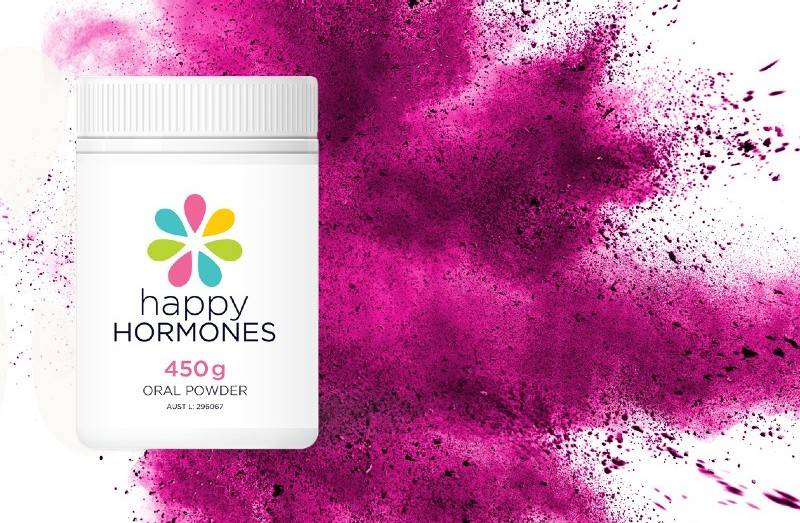 Happy HORMONES was formulated by Dr Jeff Butterworth to assist women to help overcome symptoms associated with hormonal imbalances 5 years ago in Australia. Since then over 65,000 women have benefited from the unique combination of herbal medicines.
Over the past 25 years Dr Jeff has specialised in women's health and endocrine disorders. Happy Hormones is the end result of years of research and clinical practice to formulate a combination that actually works. Not just for menopausal women, but women of all ages.
The secret lies in treating the body's own hormone control centre in the BRAIN. Stimulate the body to balance itself and you have a solution to help a whole generation of women.
"I am feeling more energetic and less tired."

JOIN
4,935
HAPPY CUSTOMERS
Here's what they're saying...
Kerry R. (Happy Valley, AU)
"Love this product. Great taste, easy to take. Taken in conjunction with HH I am just feeling better."

Michelle (Brisbane, AU)
"Love it! Happy Greens is great, I feel more energised and less bloated at the end of the day."

Fiona (Auckland, NZ)
"I like the taste, I take it as a shot first thing in the morning. I feel like it's helping with my metabolism and food cravings which is awesome."
Kirstie (Kenthurst, AU)
"Happy gut! Love the taste of this, I take it as a shot each morning before my HH smoothie."
Averil (Levin, NZ)
"Wow!I finally took the plunge and brought HG...well, I never looked back. Thank you for such an excellent natural product"
Sandra (Perth, AU)
"Magic in a bottle! I personally find the Happy Greens and Happy Hormones work together really well."
WHAT'S IN OUR
HAPPY HORMONES
Happy HORMONES is a unique combination of natural Herbs and Superfoods. Suitable for women of all ages, Happy Hormones is designed to support a healthy hormonal balance.
Vegan Friendly
and made with
organic ingredients

More detailed ingredients are available below
Happy Hormones has been a cult smash hit in Australia....
now it is available for women in the USA and Canada
Proven combination of herbal medicines to assist the body with hormonal regulation


Refined over the past 25 years by Dr Jeff in developing the ideal ratio of ingredients, sources of ingredients and dose


Works on the Hypothalamus/pituitary axis in the brain to assist the body to balance itself rather than supplying artificial hormones which often only contribute to the underlying pathology.


Combined with a suggested diet and lifestyle program which is complementary with the products to offer a completely holistic approach to hormonal regulation and symptom management.
Discover why over 65,000 Australian women rave about Happy Hormones...
FREQUENTLY ASKED QUESTIONS
Happy Hormones is in capsule form. The therapeutic dose is 4 capsules per day which can be taken at once or split across two doses morning and evening. Best to experiment which works best for you however the most important aspect is consistency in taking the product.
Q. Are there any side effects?
Not in the conventional sense of the word. Happy Hormones is all natural and well tolerated. In some women there may be an initial cleansing effect which can be reduced by taking Happy DIM and Happy LIVER. Once this has cleared your health can improve on many levels, not just hormonally.
Q. Can I take Happy Hormones if I take synthetic hormones?
Yes you can an in fact SHOULD take Happy Hormones and Happy DIM if you take any form of hormones. Ideally you should work towards either natural options for contraception or if using hormones as a treatment consider natural options we offer. Our practitioner team can assist you with transitioning off synthetic hormones safely and effectively.
Q. Can I take Happy Hormones with my other medications?
If you have any questions regarding existing medications then it is best to discuss with your healthcare practitioner however in saying this Happy Hormones is very well tolerated with most medications.
Q. How can one formula treat so many ages and conditions?
Happy Hormones itself does nothing. What it does is stimulate your body to regulate itself. This is the secret. Balance the hormone control centre and your body balances itself regardless if you are a teen or menopausal.
Q. What other Happy Healthy YOU products should I consider?

Happy Hormones works alone however we have developed a range of products to support women with unique health circumstances. We suggest you take our complementary online assessment to discover the most appropriate products for you. Our practitioner team are also available via our app to discuss your unique personal situation.
Liquid error: product form must be given a product
FOLLOW @HAPPYHEALTHYYOU.COM.AU
on Instagram